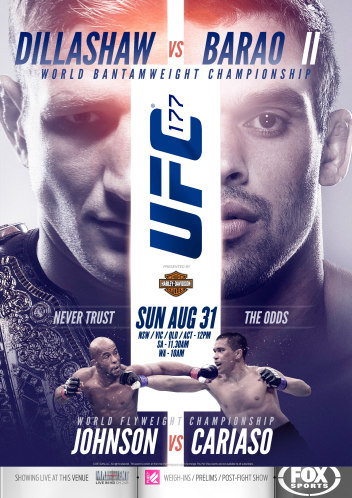 UFC 177
Dillashaw vs Brado II
TJ Dillashaw will defend his UFC bantamweight title for the first time against the man he usurped, Renan Barao.
Main Card
Dillashaw vs Barao
Johnson vs Cariaso
Correia vs Baszler
Ferguson vs Castillo
Nijem vs Diego
Larkin vs Brunson
Magomedov vs Odoms
Medeiros vs Edwards
Potts vs Hamilton
Jorgensen vs Cejudo
NSW/VIC/QLD/ACT - 12pm
SA - 11.30am
WA - 10am
18+ Only - Photo ID required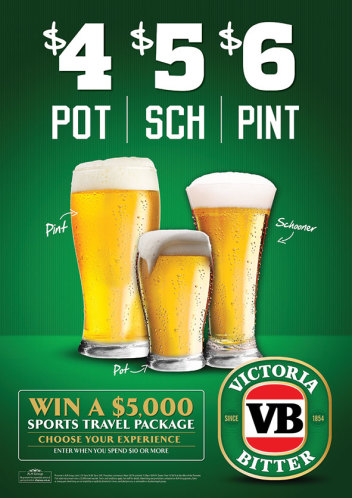 Win a $5,000 Sports Travel Package
Drop by for a big cold VB at some of the best prices in town: $4 a pot, $5 a schooner or $6 a pint.
Plus, enter the draw to win a sports travel package of your choice to the value of $5,000, when you spend $10 or more across the bar.
Promoter is ALH Group, Level 2, 10 Yarra St, South Yarra 3141. Promotion commences 1/8/14 and ends 30/9/14. Drawn 11am 15/10/14 at the office of the Promoter. First valid entry drawn wins a $5,000 travel voucher. Terms and conditions apply - see staff for details.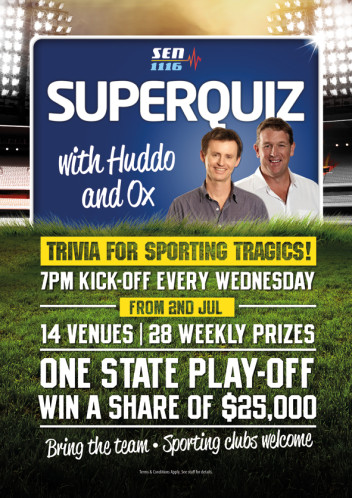 SEN SuperQuiz
Win a share of $25,000
The SEN SuperQuiz is trivia for sporting tragics!
Playing across 14 venues, for 28 weeks, with one state play-off, this is your chance to share in a $25,000 prize pool.
So come on, get your team together and join Huddo & Ox via video link every Wednesday from the 2nd of July
Terms and conditions apply – see staff for details
18+ Only - Photo ID required
Registration from 6pm
Kick off at 7pm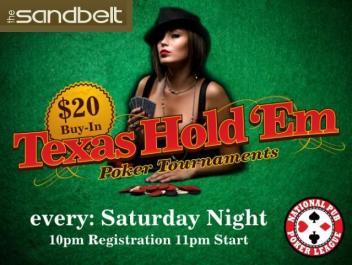 National Pub Poker
Every Saturday Night
Texas Hold 'Em Poker Tournaments.
Saturdays @ 10pm.
$20 Buy-in - Event held in bistro.
18+ Only - Photo ID required
Every Day Drink Specials At The Bar
Great drink specials currently available across the bar:
Carlton Draught - $8.00 (570ml pint)
Corona Extra - $8.00 (355ml bottle)
Smirnoff Ice Red - $8.00 (300ml bottle)
Smirnoff Red - $7.00 (30ml nip & mix)
Smirnoff Double Black - $7.50 (30ml nip & mix)
Wine of the Month: Wolf Blass Yellow Label Chardonnay or Cabernet Sauvignon - $7.50 (150ml glass), $30.00 (bottle)
Conditions may apply. Enjoy responsibly.